Open SUDA Team Meeting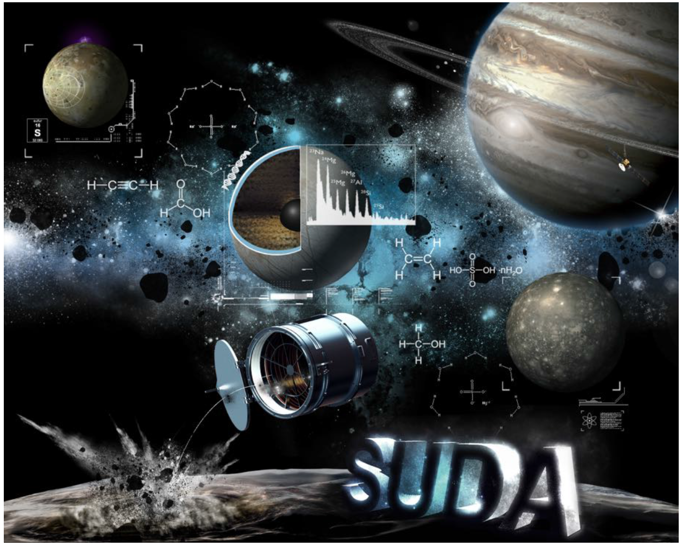 This meeting is an 'open' team meeting, not just for PIs and CoIs, open to those who are intimately involved with the science being conducted by the SUrface Dust Analyzer and the Europa mission.
We will have presentations and discussions on SUDA instrument design and testing, simulations, compositional mapping, the physics of dust, and dust analogs.
During this meeting we will have a tour of the dust accelerator and ice target facilities located on site and used for SUDA studies.
Presentations
This list of presentations will be updated as presentations are reported:
Ben Southworth: "Details of Europa's Plumes"

Bryana Henderson: "Radiation-induced chemistry of organics on simulated Europa's surface"

Christopher Glein: "MASPEX"

David James: "Ongoing SUDA testing and Storage"

Fran Bagenal: "Plasma environment around Europa"

Frank Postberg: "Amino acids: detection and detection limits with SUDA"

We discuss time of flight mass spectra obtained by the laser dispersion experiment in Heidelberg. Various amino acids have been tested in various concentrations in pure water as well as a salty matrix as an analogue for SUDA mass spectra at Europa.

Jamey Szalay: "Lunar ejecta clouds"

John Spencer: "Plume search strategies"

Jonas Simolka: "SUDA targets"

Jon Hillier: "Status of HVI laboratory dust research at the University of Kent"

JR Rocha: "Detector Activation"

Juergen Schmidt: "Compositional mapping"

Kevin Hand: "Expectations of the habitability group on SUDA"

Leela O'brien: "Detector Field-of-view"

Mark Perry: "Neutral gas in Enceladus plume measurments"

Mihaly Horani: "Dust delivery from Io to the Galilean moons"

Murthy Gudipati: "Mass spectrometry of organics on contaminated targets"

Nicolas Altobelli: "JUICE status"

Nicole Albers: "Analysis of the target flyby trajectories and anticipated SUDA measurements"

Nozair Khawaja: "Developing a Reference Library of TOF-MS of Organic Compounds for SUDA"

We perform calibration experiments to develop a reference library of mass spectra for a variety of organic compounds using IR-MALDI-TOF-MS in Heidelberg. An adjustable infrared laser is used to disperse a liquid micro-beam of a water-solution with controlled composition to get cationic fragments very similar to those from impact ionization. Classes of organic compounds are identified and differentiated from each other on the basis of characteristic cationic parent molecules, cationic fragments and water clusters.

Oak Nelson: "Ice Target Experiment"

Ralf Srama: "Cassini CDA : lessons learned"

Sascha Kempf: "Cassini updates", "SUDA's future needs"

Scott Tucker: "SUDA technical updates"

Sean Hsu: "Nano-grains and plumes from Enceladus and Europa"

Steve Vance: "Europa's Composition, Internal Processes, and Habitability"

I will describe Europa's ocean composition and redox balance in light of its active geology, fluxes of exogenous materials, thermal evolution, and internal water-rock reactions.

Tomas Stephan: "COSIMA and contamination"

Timothy Cassidy: "Impactor Contributions to Europa's Atmosphere"

Tobin Munsat: "IMPACT Accelerator"

Veerle Sterken: "Mass influx of the ISM to Jovian System"

Zoltan Sternovsky: "Updates on the SUDA instrument design"

Zuni Levin: "Ion Collimator for SUDA's Microchannel Plate"

This is the design for a collimator that focuses the ions towards the Microchannel Plate (MCP.) It not only heightens the MCP's collection efficiency but reduces the MCP's field-of-view which reduces the noise caused by incident EM radiation.
Schedule
A draft of the working schedule can be found here
A final itinerary will be developed by December 1st. Currently, the plan is to have science talks on Dec 10th, and technical talks on Dec 11th. The meeting is scheduled for the main LASP (LSTR) Building with a tour of the dust accelerator for those interested.
A dinner is being planned for Thursday night
For any questions or corrections feel free to contact either:
The first meeting announcement can be found here