About LunGradCon 2010
This first annual Lunar Graduate Conference (LunGradCon 2010) was held at the NASA Ames Research Center in Mountain View, CA, on July 18, 2010. The conference was a wonderful success, with 17 talks and 23 attendees.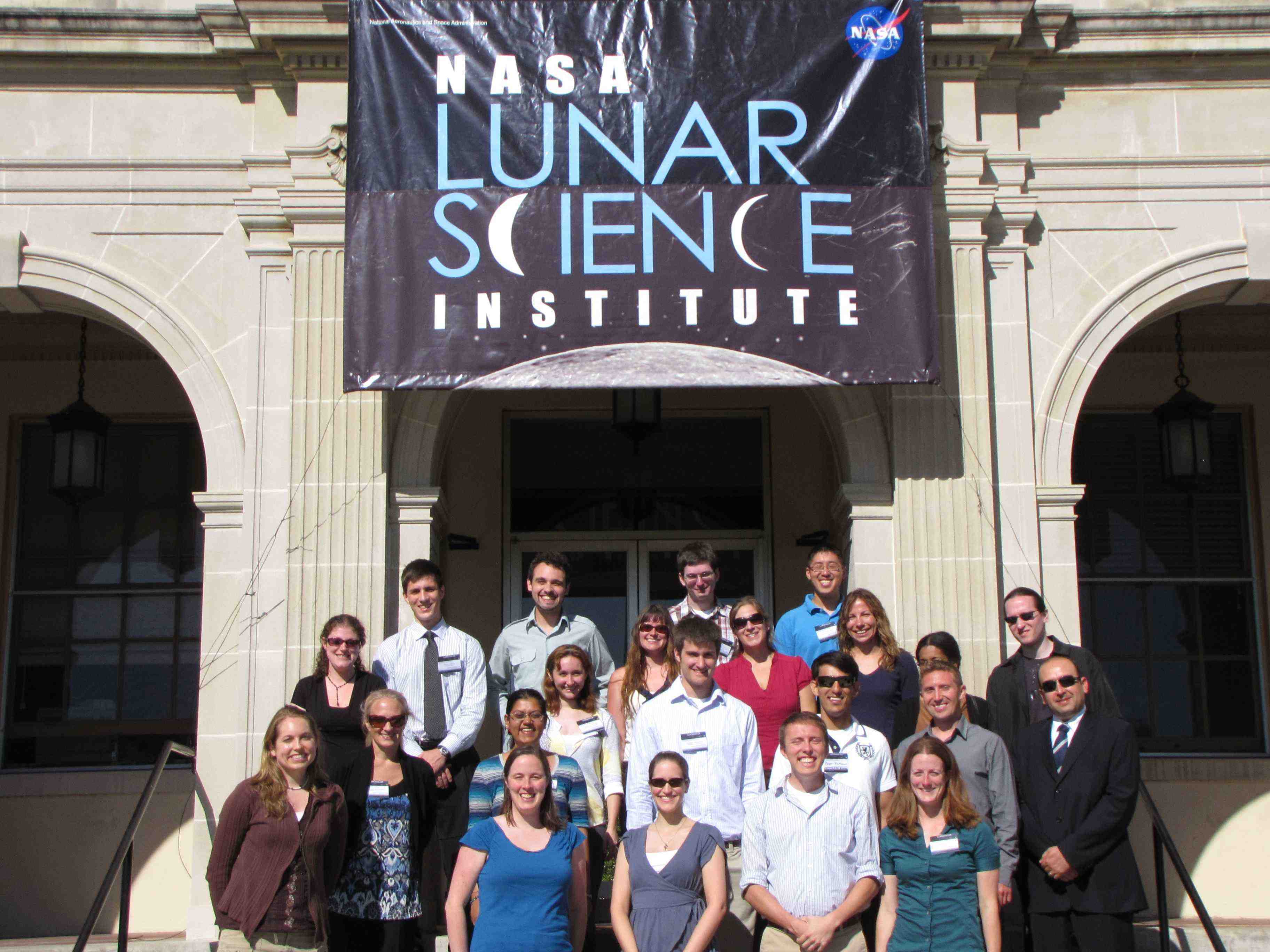 Bottom Row, Organizers (From Left): Catherine Neish, Amy Fagan, Andrew Poppe, Adrienne Dove. Second Row: Heidi Fuqua, Brenda Schuefele, Bhairavi Shankar, Jessica Arnold, Jordan Mirocha, Yassir Kattoum, Paul Hayne, Payam Bahrami. Third Row: Shoshana Weider, Katie O'Sullivan, Elise Rumpf, Margarita Marinova, Nassissie Fekadu, Emil Polisensky. Top Row: Brad Atkins, Matt Siegler, Robbie Citron, Anthony Shu.
The goal of LunGradCon 2010 was to enhance the professional development of graduate students and early postdoctoral researchers and engineers in lunar science by providing an opportunity to present and discuss scientific research in an environment of their peers. As such, the conference was planned by and attendance was restricted to current graduate students and early postdoctoral researchers.
This one-day conference was held in conjunction with the 2010 NASA Lunar Science Forum at the NASA Ames Research Center. Activities included an invited overview talk on each of the NASA Lunar Science Institutes three main research areas, submitted oral presentations from graduate students and postdoctoral researchers, and various networking opportunities.
LunGradCon addressed the three main research areas of the NASA Lunar Science Institute:
Of the Moon: Investigations of the nature and history of the Moon (including research on lunar samples) to learn about this specific object and thereby provide insights into the evolution of our solar system.
On the Moon: Investigations of the effects of the lunar environment on terrestrial life and the equipment that supports lunar inhabitants, and the effects of robotic and human presence on the lunar environment.
From the Moon: Use of the Moon as a platform for performing scientific investigations, including observations of the Earth and other celestial phenomena that are uniquely enabled by being on the lunar surface.
LunGradCon 2010 also presented opportunities for social networking among LGC participants and senior scientists and engineers from NASA ARC and the NASA Lunar Science Institute.
Related Activities
2nd Annual Lunar Scientists and Engineers Workshop
Participants of LunGradCon may also want to apply to participate in the 2nd Annual Next Generation Lunar Scientists and Engineers (NGLSE) Workshop to be held on July 19, 2010 following LunGradCon. The NGLSE is a group of student and early career scientists and engineers dedicated to fostering the development and integration of new lunar scientists and engineers into the community. The NGLSE Workshop will complement LunGradCon by providing training on effective science communication techniques, experience in delivering oral and/or poster presentations, and opportunities to meet and interact with established individuals and groups within the lunar science and engineering community. A limited number of travel stipends will be available.
Information on the Lunar Scientists and Engineers Workshop can be found here.
Student Poster Competition at NLSI Forum
Congratulations to Elise Rumpf, Paul Hayne and Matt Siegler for winning prizes in the 2010 NLSI Student Poster Competition!
The NASA Lunar Science Institute (NLSI) will be sponsoring the Student Poster Competition at the NLSI Lunar Science Conference, July 20-22, 2010, Ames Research Center, Moffett Field, CA. This event will provide motivation, encouragement, and most of all, recognition to the most promising lunar scientists of the future. There will be 1st, 2nd and 3rd place selections with awards of $1,500, $1000 and $500 respectively. LunGradCon attendees are encouraged to apply! More information can be found here.
Sponsors
LunGradCon recognizes the generous support and encouragement from a number of organizations dedicated to the development of successful lunar scientists and engineers.
Contact
Email the conference organizers